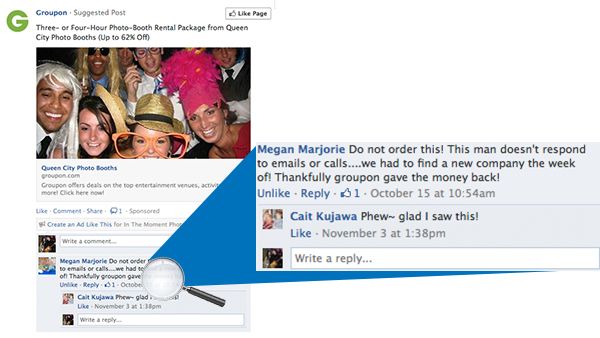 What do you get when you get an amazing Groupon deal!??!
Sometimes NOTHING. I have heard a number of brides upset, sometimes crying, because a photo booth rental company that they have purchased a Groupon from doesn't answer their calls or emails & sometimes doesn't even SHOW UP on the day the event was scheduled.
While searching for a photo booth company in Buffalo be warry of companies who are just trying to make a quick buck & don't provide the service (or any service!) that is deserved. It's a service industry, so although we may be in a slightly higher price range, the product & quality you receive surpass our competition.
As I was scrolling through my Facebook news feed I saw an advertisement for a Western New York photo booth company & someone had commented on it: "Do not order this! This man doesn't respond to emails or calls….we had to find a new company the week of! Thankfully groupon gave the money back!" to which someone responded: "Phew- glad I saw this!"
So… you've been warned LOL But if you did not read this post and something like this happens to you (as tragic as that would be) you can always come crying to us. We will certainly do everything we can to make sure you event is BETTER THAN EVER!
Read more